อัตราค่าธรรมเนียม
ชำระสินค้าและบริการ (Bill Payment)
โอนเงินเพื่อจ่ายเงินเดือนพนักงาน (Payroll)
ออกเช็คเพื่อชำระสินค้าและบริการ (Buy Cheque)
โอนเงิน

โอนเงินต่างประเทศ
โอนเงินในประเทศ

โอนเงินระหว่างธนาคารกสิกรไทย

โอนเงินให้บุคคลอื่น (ในเขต)
โอนเงินให้บุคคลอื่น (ข้ามเขต)
โอนเงินระหว่างบัญชีตัวเอง (ในเขต)
โอนเงินระหว่างบัญชีตัวเอง (ข้ามเขต)

โอนเงินไปยังบัญชีต่างธนาคาร

โอนเงินระหว่างรายย่อยระหว่างธนาคาร (ORFT)
โอนเงินพร้อมเพย์ (Promptpay)​
โอนเงินต่างประเทศโดยอัตโนมัติ (Smart Next Day)
โอนเงินระบบบาทเนต (BATHNET)
How to sign up K BIZ
Qualifications
Single applicant ages 15 years old and over
Using K PLUS application
No User ID of K BIZ service
An email address
An active mobile phone to be a verification tool or reception of OTP password
Must have application K PLUS for self-signing up via KBank website. In case of you do not have application K PLUS yet, you can sign up at Branch.
Remark:
Foreigner can apply by submitting identity affidavit at Branch.
Qualifications
Business applicant has savings account or current account with KASIKORNBANK.
Business applicant requires company certificate / letter of appointment.
Business applicant requires accordance signature showed up on application form.
Company, public limited company, and limited partnership that have never signed up for K BIZ.
An email address
An active mobile phone to be a verification tool or reception of OTP password
Remark:
For multi-user, maker and authorizer, must have K PLUS as a transaction confirmation tool.
Required Documents
Copy of company certification within 3 months mean or copy of company registration document
Copy of ID Card or Passport (Not expire as sign-up date) of the authorized director of the Company and Copy of User's ID Card
Steps of Signing Up K BIZ via K PLUS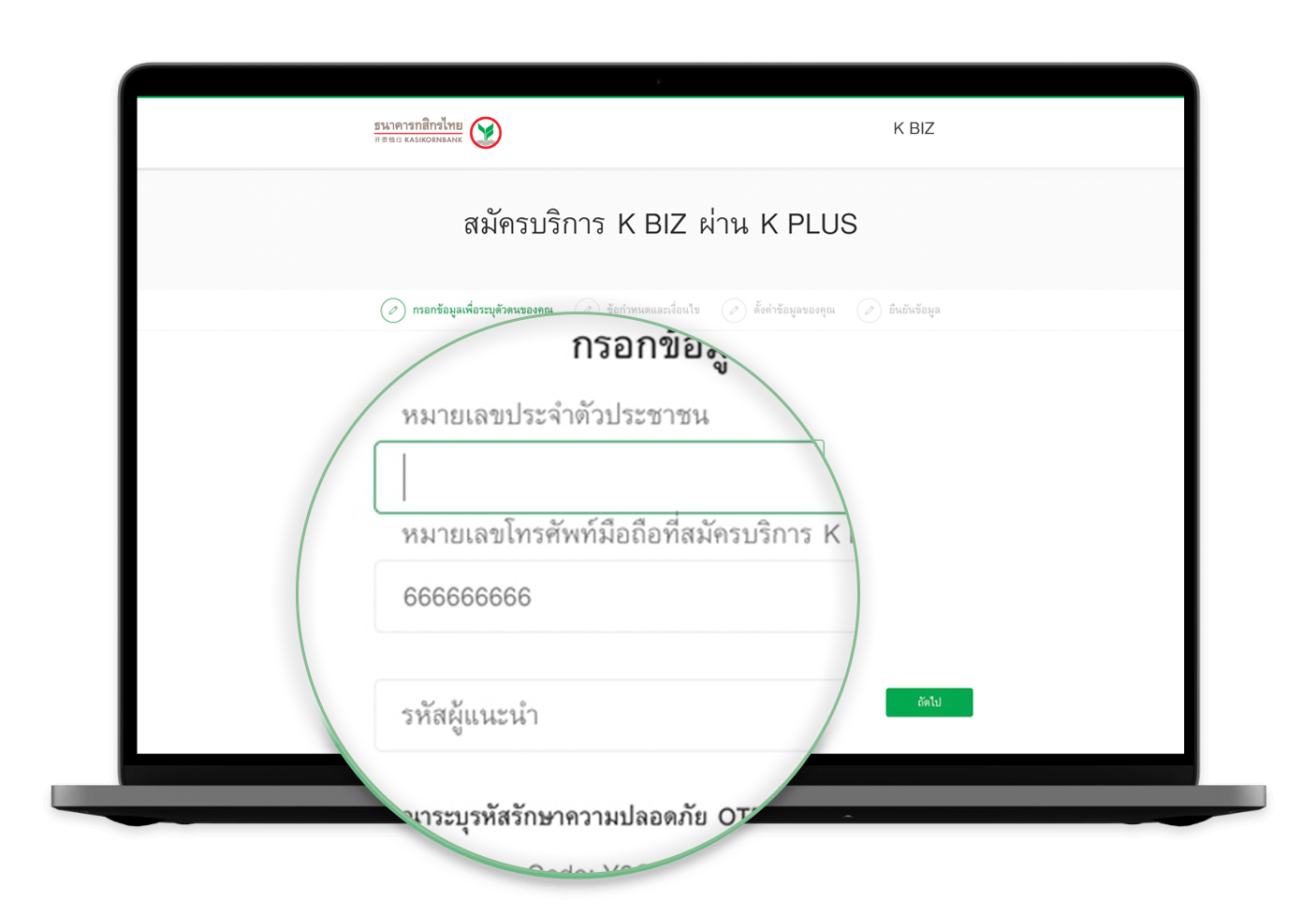 1/9
Click

Sign Up K BIZ

Fill

"ID card number" "Phone number registered with K PLUS" "Referral code"

and click

"Next"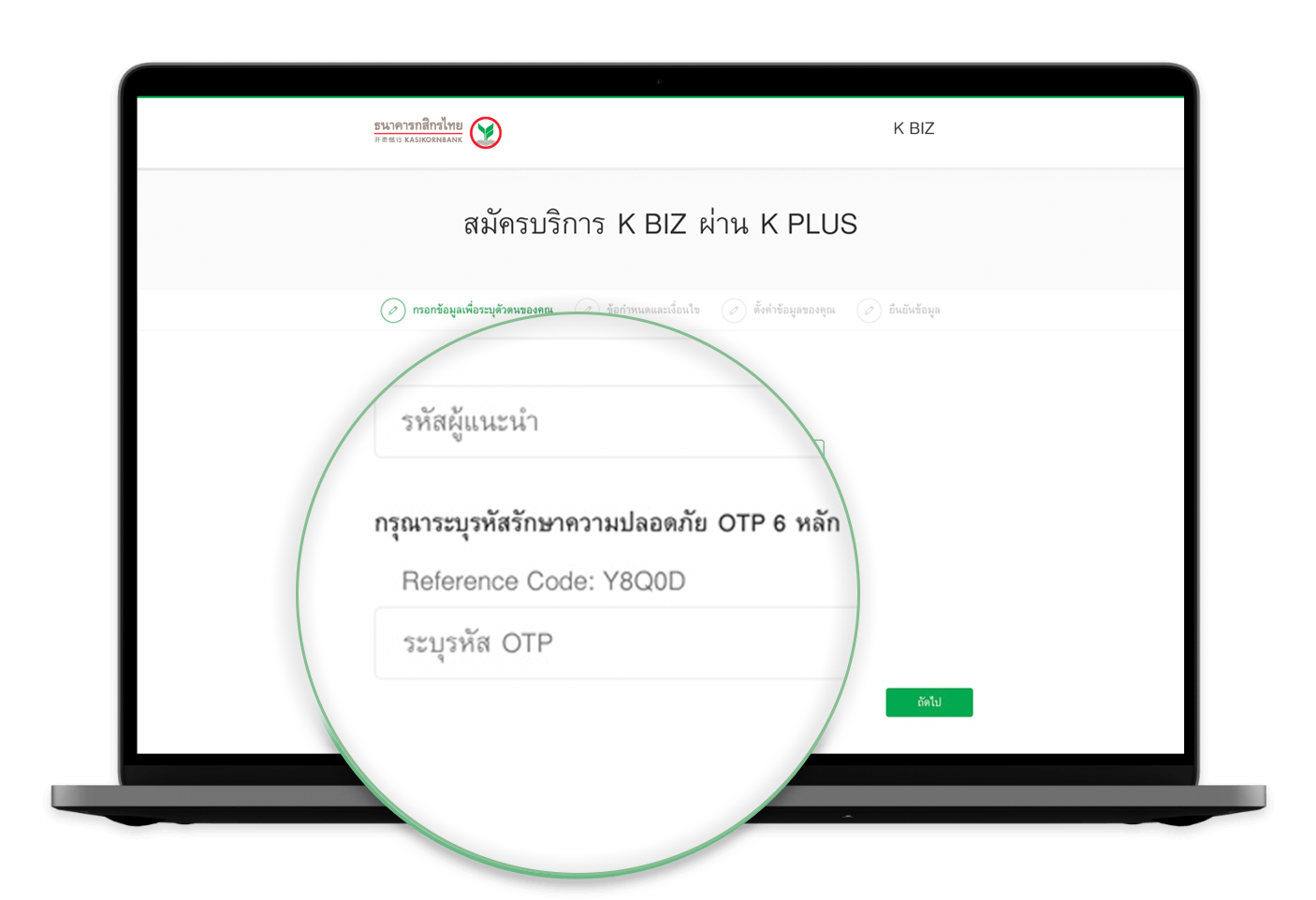 2/9
Get OTP from SMS in order to verify, then

"Next"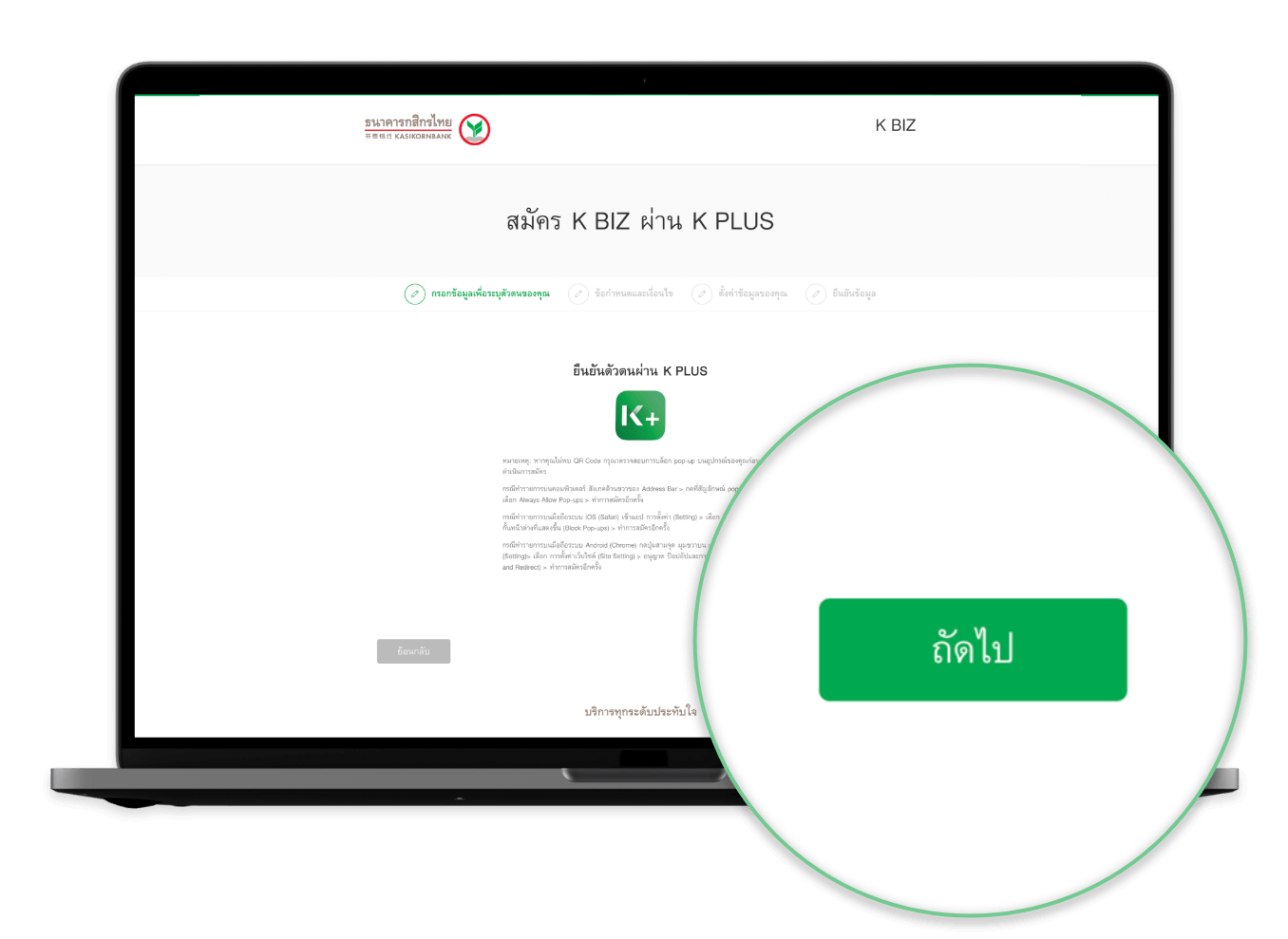 3/9
Verify by K PLUS, then

"Next"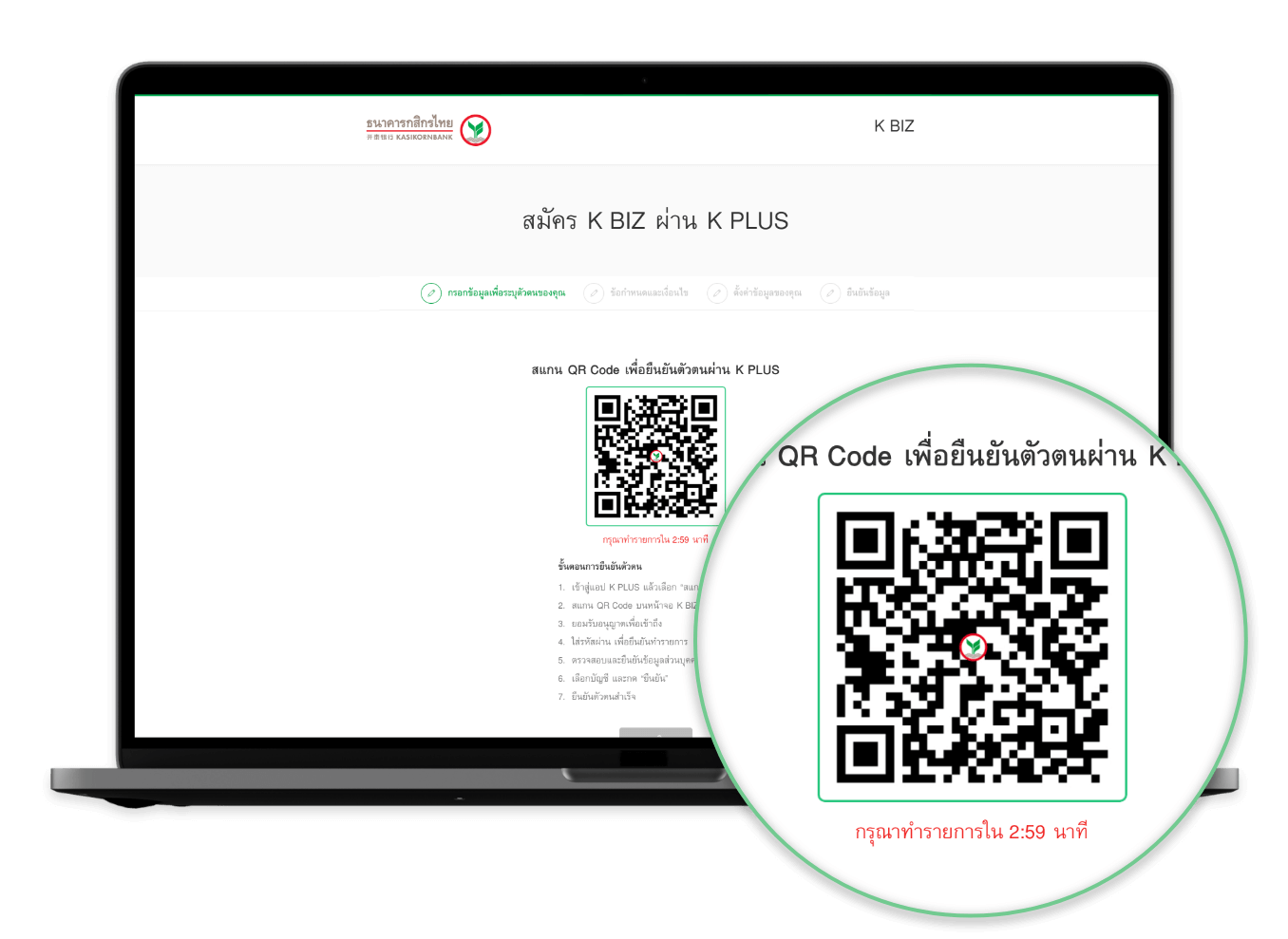 4/9
Open Scan function on K PLUS to scan on-screen QR Code
Note:
In case of signing up on the same device as K PLUS, click Link to continue processing
5/9
Accept

"Term and condition"

, then

"Next"
6/9
Choose your

"Daily limit"

, then

"Next"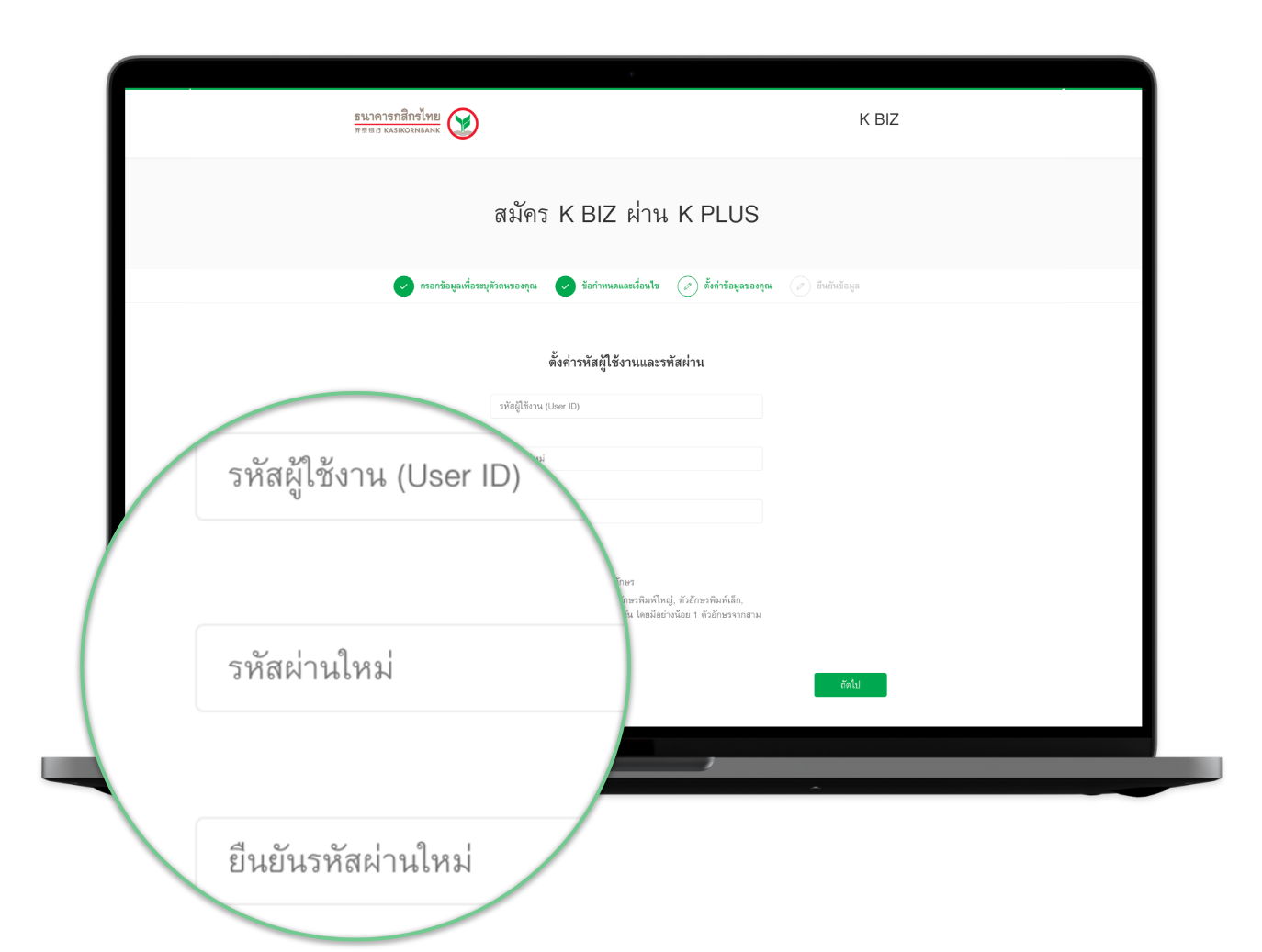 7/9
Set new

"User ID and password"

, then

"Next"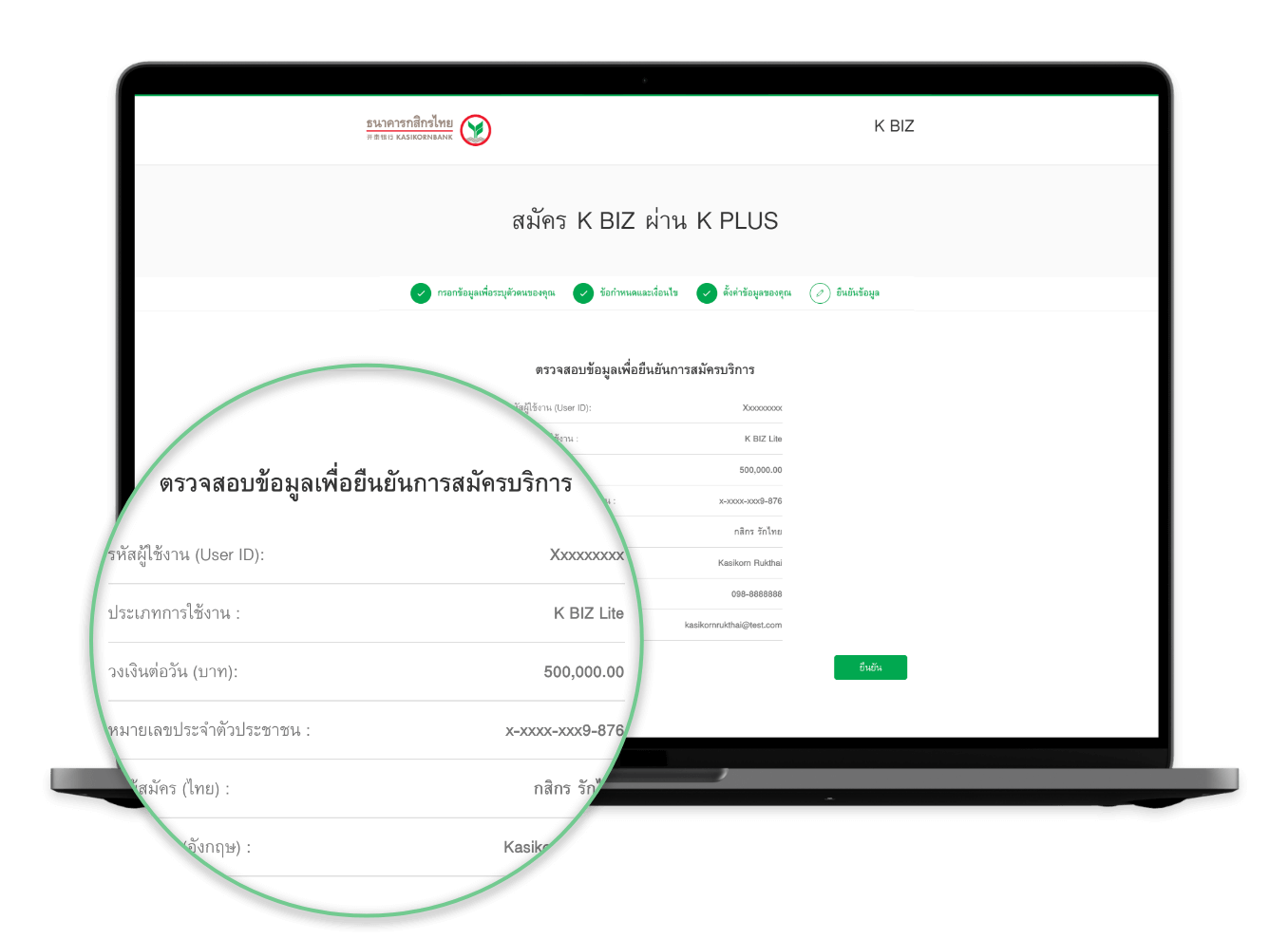 8/9
Review your information, then

"Confirm"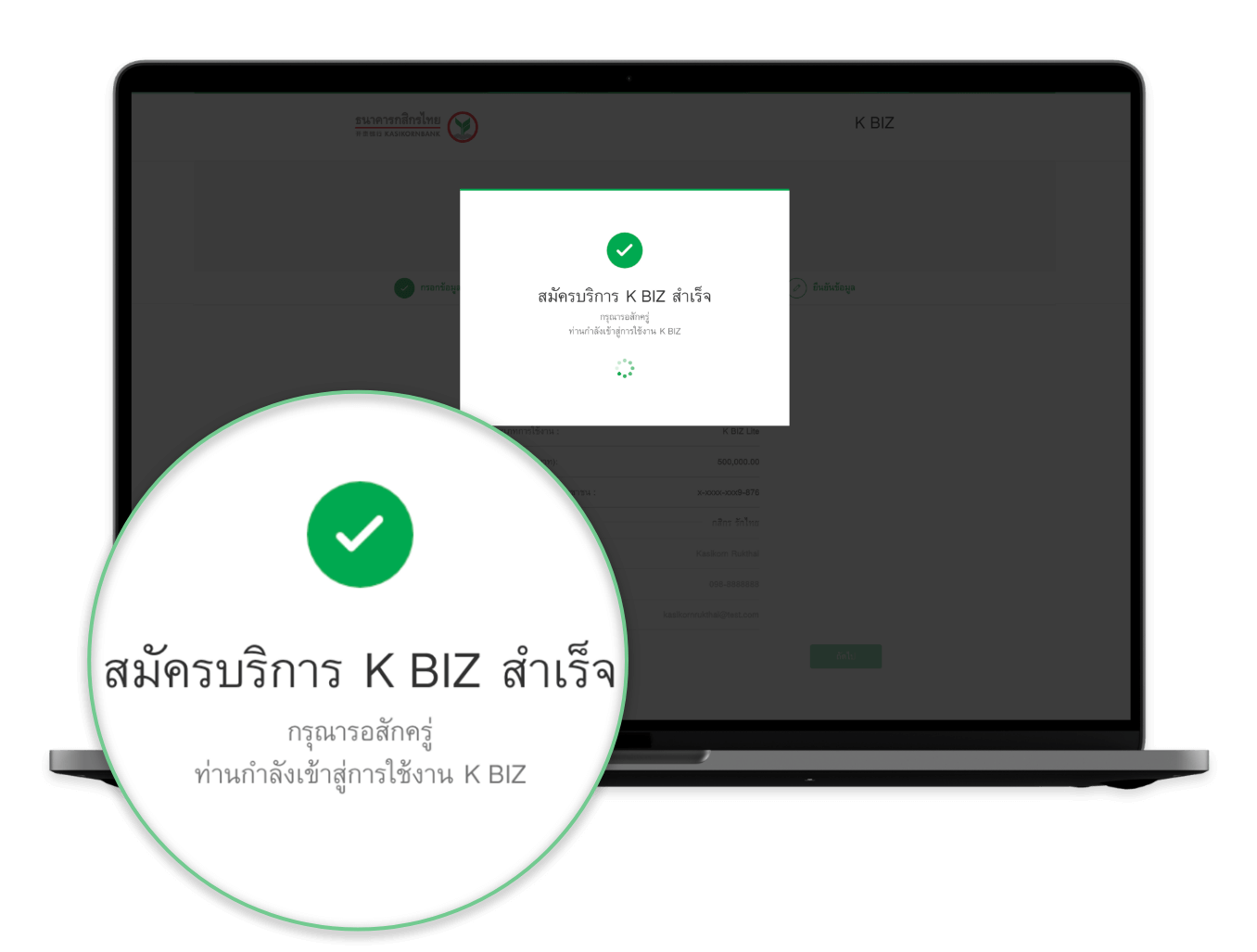 Apply Channel for K BIZ
Apply Channel
Branches and service channels
Locate Us


Individual
K-Contact Center
02-8888888 ext 803

Business
K-BIZ Contact Center
02-8888822 ext 220
Easy way to sign up with KBIZ.
Only mobile needed
1. Tap "camera" on your
mobile
device that registered with K PLUS

2. Scan above QR code

3. Follow steps on screen to complete
K BIZ registration.
Remarks :
After completing the registration process, please access K BIZ via
www.kasikornbank.com
DO NOT click on suspicious URLs or untrusted sites from search engine.