#SATI No.1
Oftentimes we may receive odd SMS messages that brighten our eyes with excitement. They may say, "You've got a loan!", "You've got free top up!" "You've got a low-interest loan!". All of them include wording like, "You've got…". But shouldn't we think twice about whether we have actually applied for a loan? Who on earth sent the message? Is it really from a bank?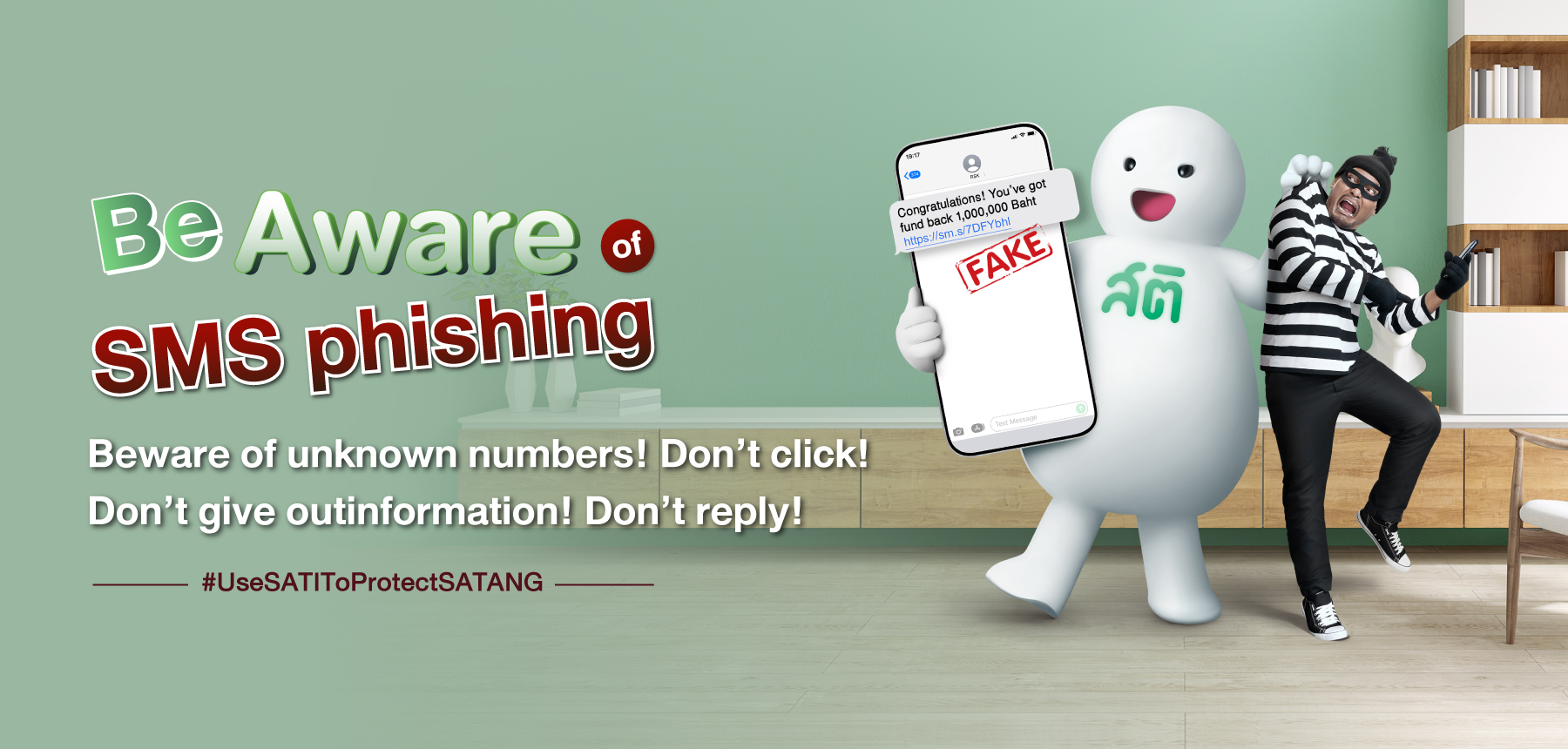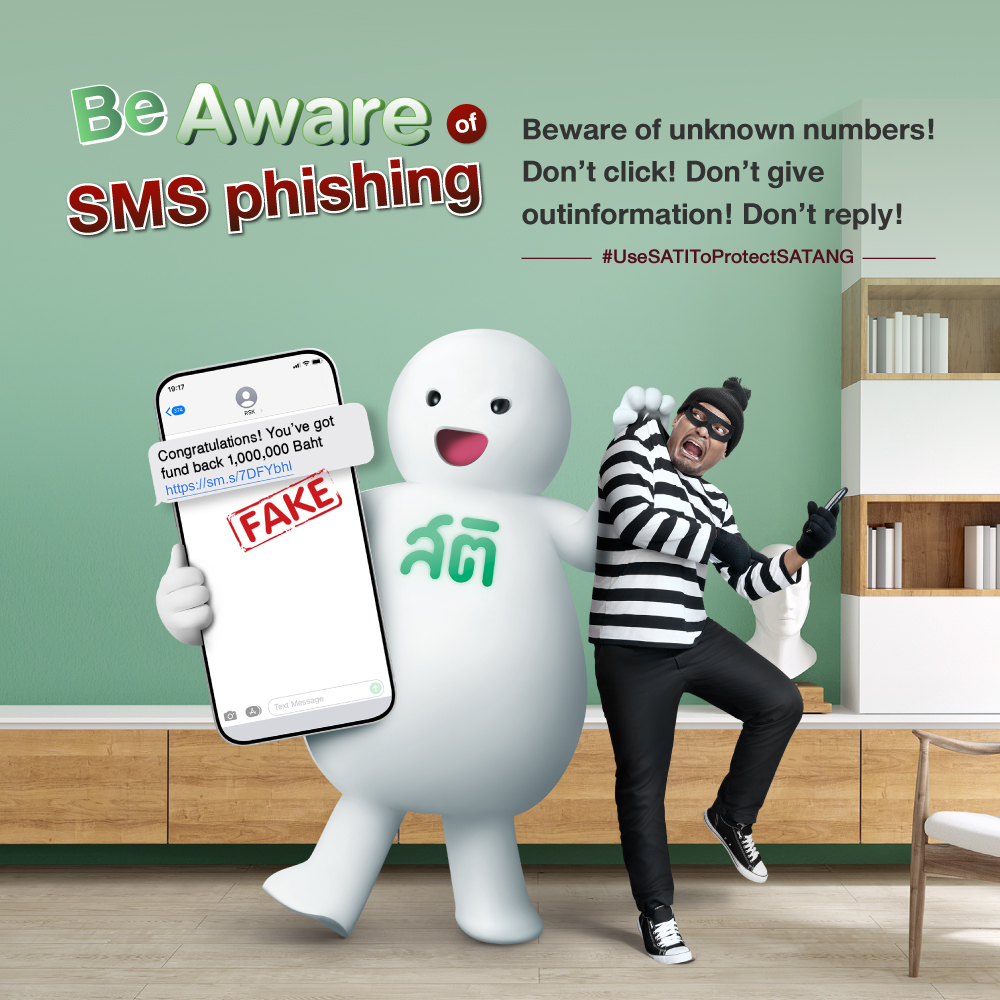 Asking yourself the right questions is the starting point of awareness. Next, let's learn how to easily recognize and separate SMS text scams from legitimate text messages.
The sender's name must be verifiable, and the number should not be unknown or unusual.
The content must not involve dramatically urgent matters or ask for sensitive information via SMS.
You should beware of website links attached to an SMS. Never click on any strange URL!
Beware of SMS scams! Beware of unknown numbers!
Don't click! Don't give out information! Don't reply!
#UseSATIToProtectSATANG
#SATI No.2
Other than SMS scams, fraudulent emails are commonly used by scammers to trick your mind. Don't immediately trust any private or work emails. Inspect each email carefully. Never immediately click on any link or file attached to an email.
If you receive a suspicious email, remember this slogan by heart: "Odd Sender - Strange Content - Attached Web link or File!" Below are some tips for identifying fraudulent emails.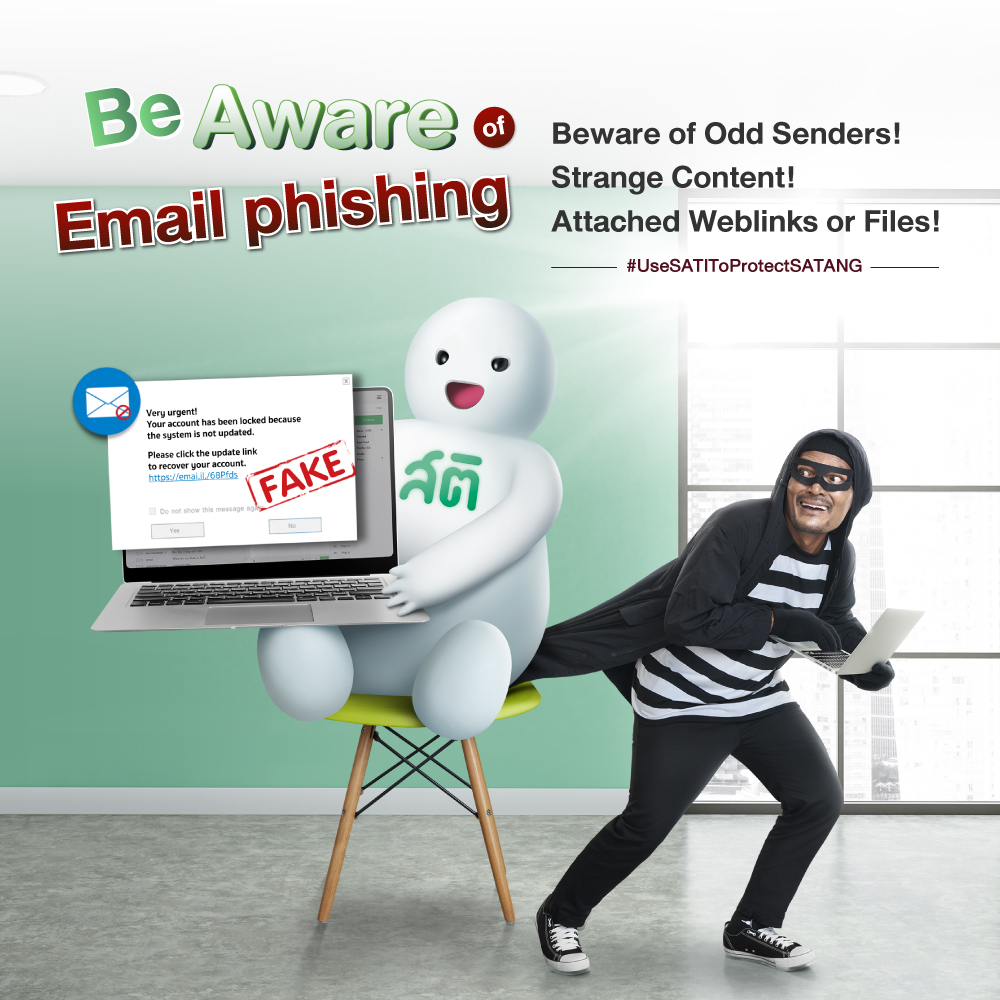 The email sender's name and/or email address is peculiar, misspelled and/or cannot be verified as genuine.
The language in the email is informal and unnatural, while the content is unusual and may ask you to act immediately in order to prompt you into providing sensitive information via email.
Malicious links can be detected by moving the mouse cursor over them - (Don't click!) - then, a different and suspicious URL will appear.
Attached files may have a suspicious file name and/or file extension.
Don't panic! Beware of fraudulent emails!
Odd Sender - Strange Content - Attached Web link or File!
#UseSATIToProtectSTATANG
#SATI No.3
Last but not least, social media scams are a danger associated with our daily routines because we all chat with friends, purchase things from vendors or simply talk to other persons. Online scammers tend to use such opportunities to befriend us, or convince us to trust or feel sorry for them, or even pretend to be a person who we know, or a trusted entity, in order to trick us into transferring funds or sending our sensitive information to them. Therefore, we had better check or observe the following the next time somebody chats with us: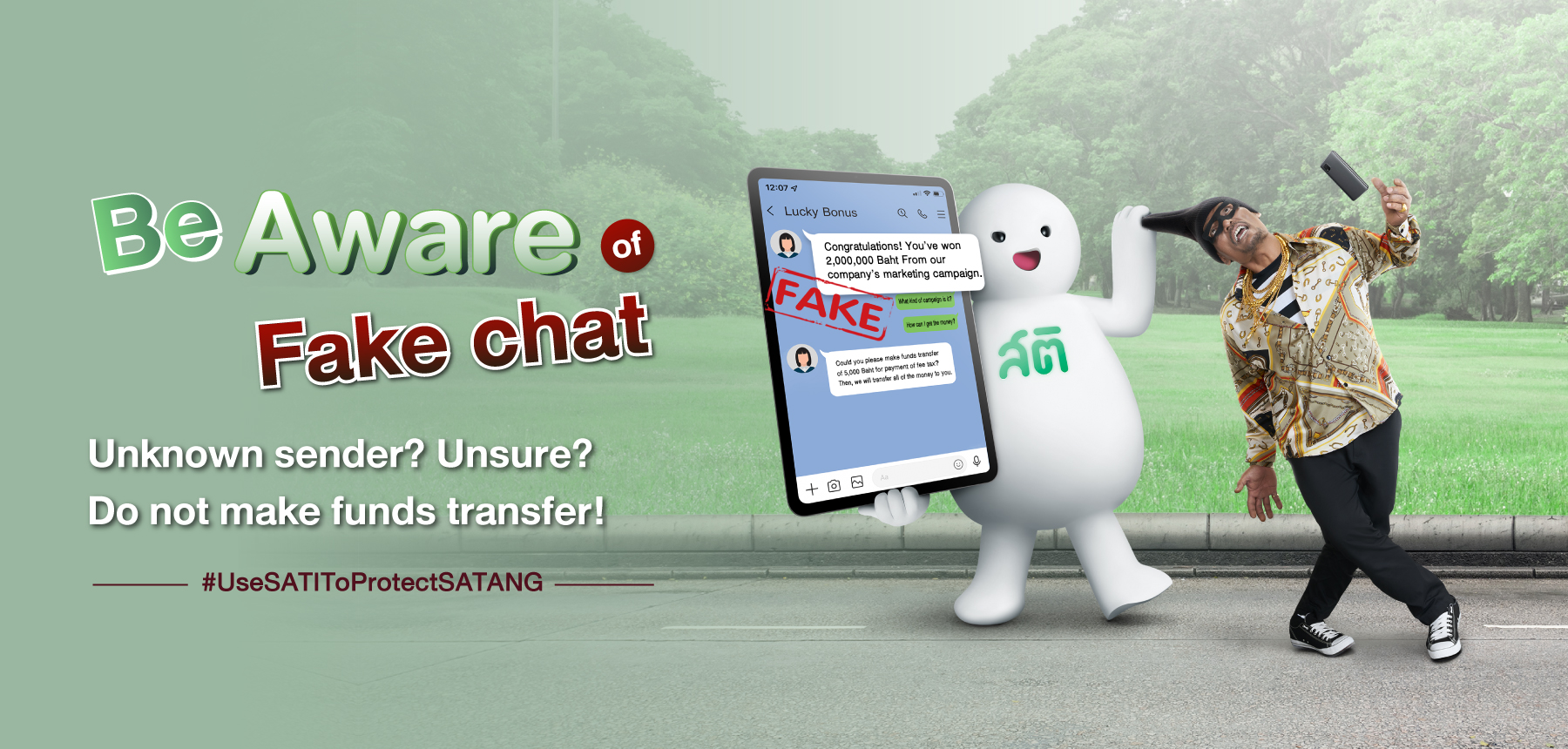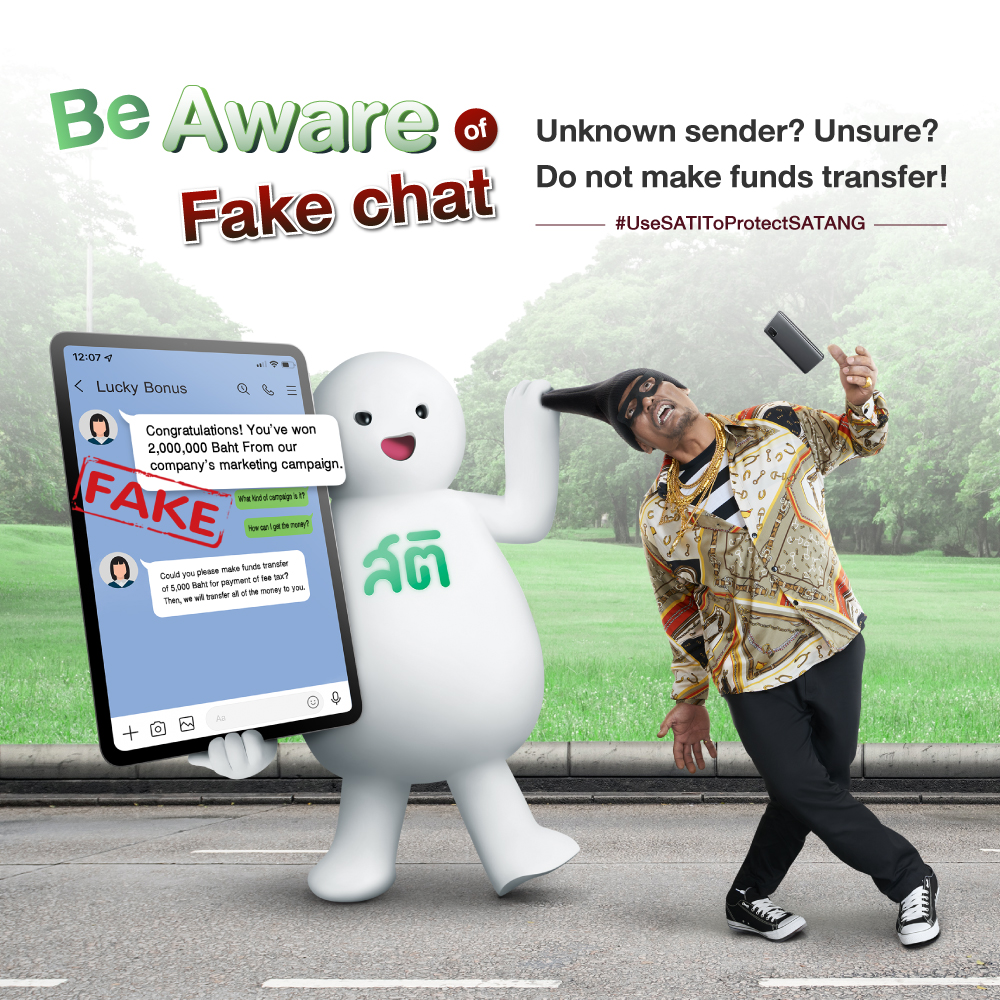 Personal or organization profile: Carefully check if a person whom you are chatting with is someone who you know or who works for a verifiable agency. You should avoid chatting with strangers.
Do not disclose sensitive data or financial information.
Confirm the need to act via other channels such as calling the responsible firm directly. Do not perform any action based on chat messages alone.
Most importantly, we must be able to identify chat messages that are pretending to be from KBank. Here are the tips:
KBank's official LINE account is KBank Live.
There is a green badge with a white star to the left
of the LINE account name. If this mark is not show,
or it is in another color,
it is not KBank's official LINE account.
Most importantly, we must be able to identify chat messages that are pretending to be from KBank. Here are the tips:
KBank's LINE Official Account must be KBank Live only.
The certification mark from the LINE program is a green shield or a green star badge alongside the account name.
If you are not sure of what to do, please contact the Bank via Chat KBank Live or other channels (such as Facebook) or the K Contact Center, tel. 02-8888888
If you find any scammers pretending to be from KBank, please report them to the LINE assistance center, and immediately tap the "Report" button.
Beware of fraudulent chat messages. Check the profiles of people whom you chat with. If you do not know them, or cannot confirm their identity,
do not transfer any funds.
#UseSATIToProtectSATANG.
If you still fall prey to a scam even though you did take steps to ensure your safety, remain calm and compile all the related evidence before filing a report to the respective social media platform's assistance center. If you encounter cyber threats related to KBank, please report the matter to KBank Live via
Email

info@kasikornbank.com
K-Contact Center

02-8888888