Call Center Gang
Call Center Gang is a group of fraudsters who engage in phone scams by creating situations to make their victims act out of panic, tricking them into thinking that they will receive certain benefits.
Victims may suffer the following losses :
They may be tricked into transferring money from their bank account.
Fraudsters may ask for the victims' credit card information and use that data to make fraudulent transactions, causing debts for the unwitting victims.
Fraudsters may ask for the victims' personal information such as bank account number and ID card number. Then they may use such information to impersonate the victims in making online applications for financial service purposes.
How do scams work?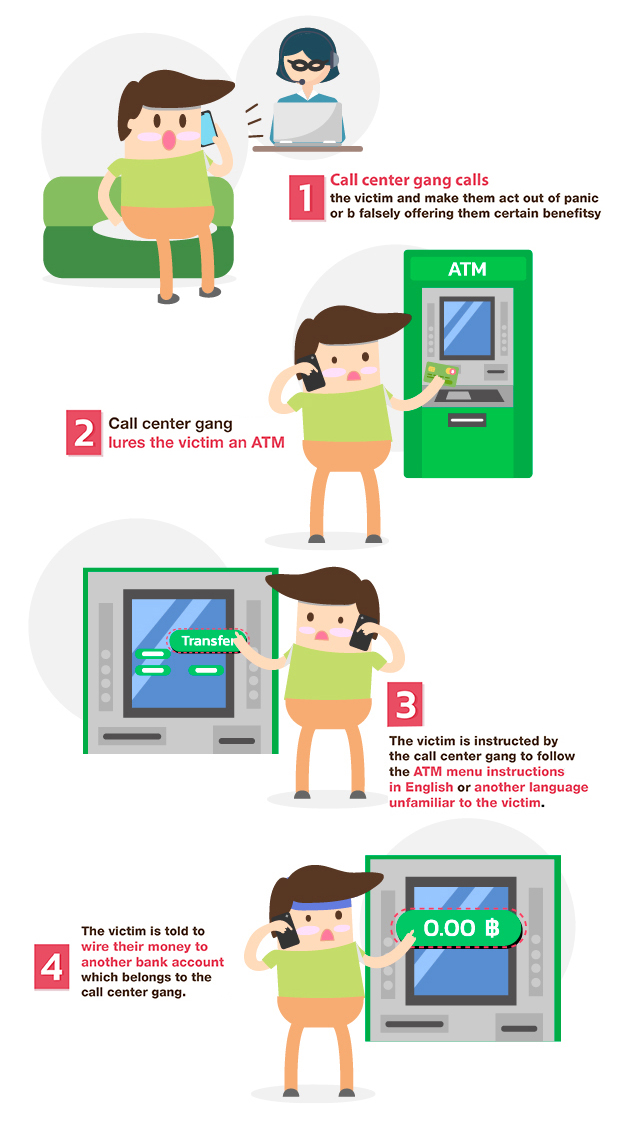 ATM tax refund scam
The call center gang claims to be an officer from the Revenue Department and requests the victim's personal data in order to proceed with the victim's tax refund. The call center gang then informs that the victim must verify the transaction through an ATM. The call center gang gives instructions quickly and tells the victim to use the English-language menu to trick them into transferring money to the call center gang's account.
Theft of victims' personal data
The fraudster pretends to act as a financial institution and requests the victim's personal information. Then, the fraudster uses that information to impersonate the victim in order to make fraudulent financial transactions.
Credit card debt scam
The fraudster pretends to be a bank employee, calling to inform the victim of their overdue of credit card bill, and the system will automatically debit money from the victim's bank account to settle the bill. The fraudster then asks the victim to go to an ATM to suspend their bank account by pressing buttons as per the fraudster instructs them. The victim is unknowingly transferring their money to the fraudster.
Drug trafficking / money laundering accusation scam
The fraudster calls and asks the victim for the amount of bank account balance, telling the victim that their bank account has some involvement with drug trafficking or money laundering. Then, the fraudster transfers the call to another fraudster who pretends to act as a police officer to help investigate the case, informing that the victim must temporarily transfer their money to another account – which belongs to the fraudster.
---